Use The 80/20 Rule To Beat Procrastination
20th May, 2020
5 minutes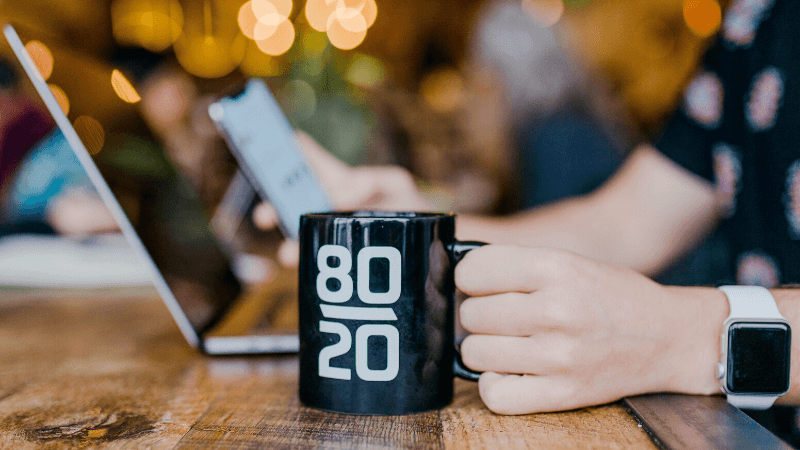 Procrastination creeps into our days in many different forms. Sometimes it's spending endless time browsing Instagram or watching videos on TikTok, checking your emails obsessively throughout the day, or even spending a chunk of your time on low priority busy work instead of focusing on those more important projects.
Have you been feeling guilty about putting projects off that you know would make a real difference to yourself and the company as a whole? Or maybe you just feel overwhelmed at the thought of getting started. Either way, if you want to improve your success, become more productive and overcome procrastination for good, then it's time to apply the 80/20 rule in your life.
What is the 80/20 Rule?
The 80/20 rule is the concept that 80% of your revenue or success comes from only 20% of your efforts or customers. If you look at the activities you completed during the day, you will find that the top 20% of your daily activities will result in 80% of the results that you achieve.
It's easy for menial tasks to slip in and keep us distracted from the things that can move us forward and bring success and many people slip back into old habits of procrastination instead of focusing on the 20% that will propel you forward. Ask yourself, what tasks and projects would really propel you forward and then make them happen!
How to apply the 80/20 Rule
Here are some of our tips to help you maximise your productivity and overcome procrastination:
Change the flow of your work. Most people have a habit of looking at their to-do list, and then checking their emails or social media feeds with the idea that they will start on their list after a few mundane and often quick tasks. Instead of letting yourself slip out of productivity like this, jump into your priority to-do items to get them done first, and then you can spend the rest of the day tackling other tasks on your list.
Nobody's perfect. We all have habits that slow down our progress, and many times these habits are rooted in an attempt to achieve perfection. Re-reading and editing a short internal email for 15 minutes before hitting the send button only makes a small, incremental difference in the big picture. Move fast, complete the task as quickly and accurately as possible, and then move onto the next without getting bogged down by trying to achieve perfection.Why not try Grammarly? It's a free add-on that you can download for your Outlook emails, Word documents and Chrome Browser that helps you improve your grammar instantly, a real time saver.
All good things come in 3's. If someone asks you 'How was your day at work?' how many of us can honestly measure how successful we were compared to yesterday? A great way of focusing your endless to-do list is to narrow it down to your top 3 priorities. Every day ask yourself: What are the 3 things I want to have achieved by the end of the day? Make sure these are items that add value, propel you forward and should not be put off. Then make as much headway into your 3 priorities as possible and you'll be amazed at how much more you can accomplish! Doing this also gives you a much better indication of how effective you are on a day to day basis.
Schedule breaks into your calendar. Trying to power through your to-do list without taking any breaks can have negative consequences and will eventually make you burn out. Make sure to schedule some downtime into your calendar: relax, have lunch, read a book, get some fresh air, or play with your kids. These breaks will help to refuel your creativity and make you more effective when you're focusing on the tasks that really matter. Also, consider taking a day off now and then as a digital detox, where you completely step away from the computer to allow yourself to refresh.
Reward yourself. We all have an inner chimp that needs to be kept happy. Set out to accomplish your most important tasks and agree to reward yourself once you've made a certain level of progress and once you have accomplished them. Fancy a cuppa? Make a compromise with yourself to accomplish a certain milestone first and then enjoy your cup of tea that much more. Setting yourself small rewards will also give you more of an incentive to tackle meaningful projects instead of the easy busywork.
As you see, incorporating the 80/20 rule into your work isn't rocket science. It only takes a little bit of practice, but once you learn to identify the tasks that are propelling your success, then you can optimise the way you work and decrease procrastination. Seeing how effective you can be by applying the 80/20 rule in your own life and reaping the benefits of maximising your productivity is simply a fantastic feeling. So, what are you waiting for?